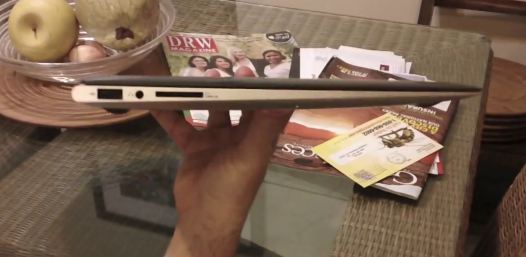 (This sponsored post originally appeared at www.Dadomatic.com)
I think you'll agree that computers are now a part of just about every family's lifestyle (not to mention our business lives...). It has been fascinating to watch the rapid evolution of computers over the years. Remember the first computer you bought for your home? Chances are it was a huge desktop PC with a large CPU, and awkwardly heavy CRT display. Today that early PC is a digital dinosaur, and, arguably, the idea of a big CPU for a "desktop" PC is perhaps on its way to extinction as well.
Lap It Up...
When laptop PC's first hit the market we were enamored by their portability, but we wanted them to have the same power and capabilities as our workhorse desktops... and soon they were just as fast and capable, with powerful, yet power friendly microprocessors, great graphic and media capabilities, sharp, wide screens, and hard drives with the same capacity as their desk-trodden counterparts. Indeed the laptop could be a primary PC, but you might not want to carry it with you everywhere (if you value your shoulder). For many, that big, bulky (but capable) laptop became our main PC, spending more time on our desks than our laps.
Casting (out) the Net(book)
Recognizing the consumer's desire for "smaller and lighter," notebooks evolved from the laptop, and then the netbook evolved from the notebook PC. Small, light and inexpensive, the netbook was one step forward in portability, but two steps backward in power and function. The shrunken keyboards could be a challenge, along with the small screens and general lack of "oomph" when it comes to speed and pure processing prowess. A netbook has its place in a pinch, but it is unlikely to ever become a "main" computer.
Enter The Ultrabook!
The desire for small, light, powerful and portable is now being addressed by the many Ultrabooks hitting the market, driven by an
Intel
reference design. As I mentioned in an
earlier post
in which I unboxed the
Asus Zenbook UX31E
, Ultrabooks are thin, sleek and light. Most weigh less than 3 pounds, and the Asus Zenbook that Intel sent me is 9mm thick in the back, sloping down to 3mm in the front. It is an eye-catching brushed aluminum package... and with "instant on" and solid battery life it is a computer you truly can (and will want to) take with you everywhere. It is a full featured portable computer that fits into any lifestyle and a laptop that is just as comfortable on your lap on the couch as it is on your desk. The Asus Zenbook is an impressive example of the Ultrabook category and at this year's Consumer Electronics Show (
CES
) there were some exciting Ultrabook announcements from a number of manufacturers.
The Ultrabook Dads Geek Out On Video
When Intel sent
@HighTechDad
and I the Asus Zenbooks to review, we wanted to do something a little different. Any reviewer can tell you the specs of a device. We wanted to have some fun and give you a good perspective on the Asus Ultrabook at the same time. While we each made our own video, they are actually closely tied together and I hope you'll take the time to watch them both for the full UltrabookDads treatment. And please, let us know what you think!
Can't see the video? Click this link:
http://youtu.be/GqM3l3n-B3I
And here is the companion video from @HighTechDad:
Can't see the video? Click this link:
http://youtu.be/AhP6XdglaVs
Michael
and I have enjoyed using and talking about the Ultrabook and having the chance to be "UltrabookDads." We held a
Google Hangout and a fun live Twitter Chat
, and one lucky Twittizen, @BadMofo33, was the random winner of an Ultrabook Intel provided as a giveaway. I hope you've enjoyed this inside look inside Ultrabooks, sponsored by Intel.
Which Ultrabook features are most appealing to you?
Disclosure: In accordance with the FTC Guidelines and WOMMA Code of Ethics, I am disclosing that I have a material connection because I received a gift or sample of a product for consideration and/or am being otherwise compensated by Intel in preparing to create this content. I was/am not expected to return this item or gift after my review period. My opinions about Intel, Asus, and Ultrabooks are entirely my own and not those of Intel, Asus or any other party.